Registration
28th Annual PHRC Housing Conference
Register for the conference & sponsorships here.
Registration Fees
Full, Two-Day Conference Registration*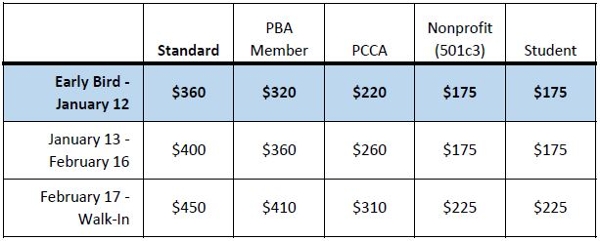 * Includes Happy Hour on the Exhibit Floor on Wednesday evening (a $50 value).
One-Day Conference Registration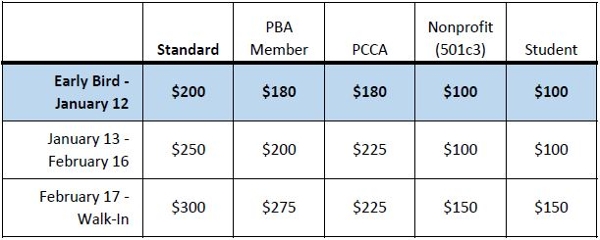 Become a PHRC Member today for a discount on registration! After becoming a PHRC Member, you will receive email directions on how to receive conference registration(s) at this discounted rate. To become a PHRC Membership, please visit our Membership Page.
For the 28th Annual PHRC Housing Conference, scholarships are available to cover registration fees for high school and vocational students for one day of the conference. Please click on the following link to download the scholarship application form: Scholarship Application
PLEASE NOTE: Registrations after March 1, 2020 at 5pm and walk-ins will be charged an additional $20.
Support Penn State Student Activities
Help support the future of the residential construction industry! Each year, students at Penn State University participate in various activities related to the housing industry, including the NAHB Student Competition held at the International Builders Show. The Penn State National Association of Home Builders Student Chapter and Department of Energy Solar Decathlon Design Challenge team actively recruit enthusiastic students looking to enter the housing industry through guest speakers and site visits. These students would benefit from your financial contributions to help make these activities and their experience with the housing industry more successful. During the registration process, there will be an opportunity to contribute to these student activities.
Registration Info
Registration opens at 7:30am on each day.
The registration fee covers all instruction, notes, program materials, lunch, and breaks.
Registrants are responsible for all other meals and for lodging. This fee may be paid by any major credit card (VISA, MasterCard, Discover, or American Express).
We encourage you to register online. If paying by check, please make checks payable to Penn State University and mail to Conference c/o Tracy Dorman, Pennsylvania Housing Research Center, 206B Sackett Building, University Park, PA 16802.

Note: A $10 per person processing fee applies to all registrants paid by check or not made online.

Registrations after March 1, 2020 at 5pm and walk-ins will be charged an additional $20.
Groups of 6 or more can receive a special rate. Contact Tracy Dorman, tsd5@psu.edu, 814-865-2341, to receive this discount.
Upon registering, you will receive confirmation by email. Your registration will NOT be complete until you receive your email confirmation.
Cancellation Policy
Registrants will be notified promptly of any cancellations or program changes. If a program is cancelled or postponed, registration fees will be refunded; however, the PHRC is not responsible for any other related costs, charges, or expenses.
Unless otherwise noted, individual cancellation charges will be in effect as follows:
Greater than 15 days - full refund
15 days or less - full program charge