Wednesday Schedule
The first day of the conference, Wednesday, March 4, will focus on topics related to high performance, construction, and codes for residential construction. Learn about innovative technologies and get an update on the latest technical and regulatory issues facing the housing industry. This conference brings together all sectors of the housing industry including builders, design professionals, remodelers, code officials, educators, factory-built housing manufacturers, and product manufacturers. Continuing education available.
Keynote Speaker
Clayton DeKorne, chief editor of the Journal of Light Construction will be giving the keynote presentation titled How Will Construction Solve the Skilled Labor Shortage?, which will address the ongoing labor crisis in the residential construction industry.
Agenda
Day 1 conference sessions on Wednesday will feature three concurrent tracks: High Performance, Construction, and Codes & Regulations.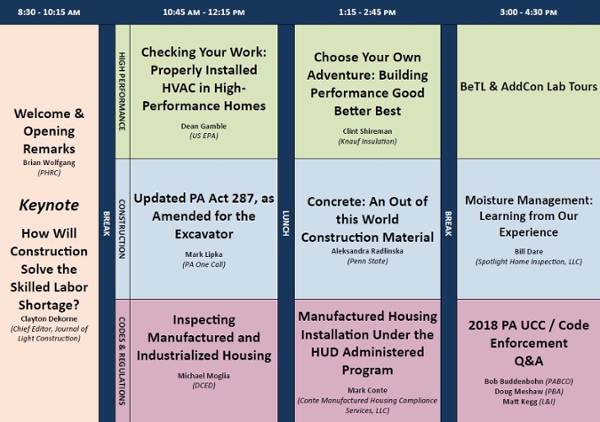 7:15am
7:30am
8:30-10:15am

Welcome & Opening Remarks by Brian Wolfgang, PHRC
Keynote titled How Will Construction Solve the Skilled Labor Shortage? by Clayton DeKorne of JLC (Journal of Light Construction)

10:15-10:45am
10:45am-12:15pm

Checking Your Work: Properly Installed HVAC in High-Performance Homes by Dean Gamble, US EPA
Updated PA Act 287, as Amended for the Excavator by Mark Lipka, PA One Call Systems
Inspecting Manufactured and Industrialized Housing by Michael Moglia, DCED

12:15-1:15pm
1:15-2:45pm

Choose Your Own Adventure: Building Performance Good Better Best by Clint Shireman, Knauf Insulation
Concrete: An Out of this World Construction Material by Aleksandra Radlinska, Penn State
Manufactured Housing Installation Under the HUD Administered Programs by Mark Conte, Conte Manufactured Housing Compliance Services, LLC

2:45-3:00pm
3:00-4:30pm

TOUR FULL - BeTL & Additive Construction (AddCon) Lab Tour at CITEL
Moisture Management: Learning from Our Experience by Bill Dare, Spotlight Home Inspection, LLC
2018 PA UCC / Code Enforcement Q&A Panel by L&I and more

6:00-8:30pm