Wednesday Schedule
The first day of the conference, Wednesday, March 13, will focus on topics related to design, construction, and codes. Learn about innovative technologies and get an update on the latest technical and regulatory issues facing the housing industry. This conference brings together all sectors of the housing industry including builders, design professionals, remodelers, code officials, educators, factory-built housing manufacturers, and product manufacturers. Continuing education available.
Keynote Speaker
Dr. Lynn Fisher of the American Enterprise Institute (AEI) will be giving the keynote presentation entitled Update on Housing and Mortgage Markets. The keynote will focus on assessing the macroeconomic drivers of interest rates, current demographic trends, and the current state of housing and mortgage market activity, including risks. She will also discuss some of the barriers to homebuilding and lessons from history regarding factory-built housing.
Agenda
Day 1 conference sessions will feature three concurrent tracks: Design, Construction, and Codes. Below is a tentative agenda.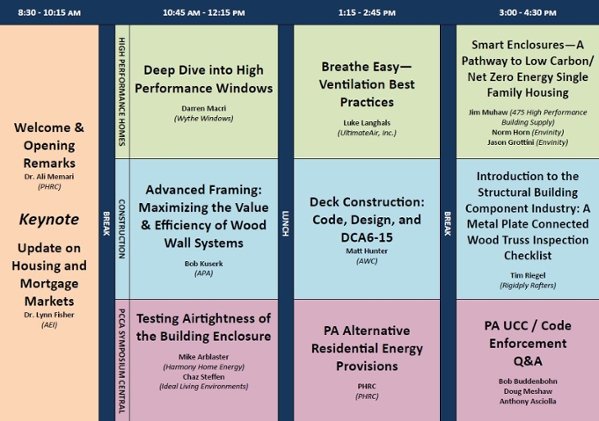 7:15am
7:30am
8:30-10:15am

Welcome & Opening Remarks by Ali Memari, PHRC
Keynote: Update on Housing and Mortgage Markets by Lynn Fisher, AEI

10:15-10:45am

Break with Exhibitors and snacks

10:45am-12:15pm

Deep Dive into High Performance Windows by Darren Macri, Wythe Windows
Advanced Framing: Maximizing the Value & Efficiency of Wood Wall Systems by Bob Kuserk, APA
Testing Airtightness of the Building Enclosure by Mike Arblaster, Harmony Home Energy, and Chaz Steffen, Ideal Living Environments, Inc.

12:15-1:15pm
1:15-2:45pm

Breathe Easy: Ventilation Best Practices by Luke Langhals, UltimateAir, Inc.
Deck Construction: Code, Design, and DCA6-15 by Matt Hunter, American Wood Council
PA Alternative Residential Energy Provisions by Brian Wolfgang, PHRC

2:45-3:00pm

Break with Exhibitors and snacks

3:00-4:00pm

SMART ENCLOSURES-A Pathway to Low Carbon/Net Zero Energy Single Family Housing by Jim Muhaw, 475 High Performance Building Supply; Norm Horn & Jason Grottini, Envinity, Inc.
Introduction to the Structural Building Component Industry: A Metal Plate Connected Wood Truss Inspection Checklist by Tim Riegel, Rigidply Rafters
PA UCC / Code Enforcement Q&A Panel by Anthony Asciolla, Bob Buddenbohn, & Doug Meshaw

6:00-8:30pm